QC PRO EX Plus
"QC PRO EX Plus" is an advanced Excel add-in software which imports measured data from TelemeasureII via Data receiver into Excel sheet.
It has additional functions compared with former software:QC PRO EX.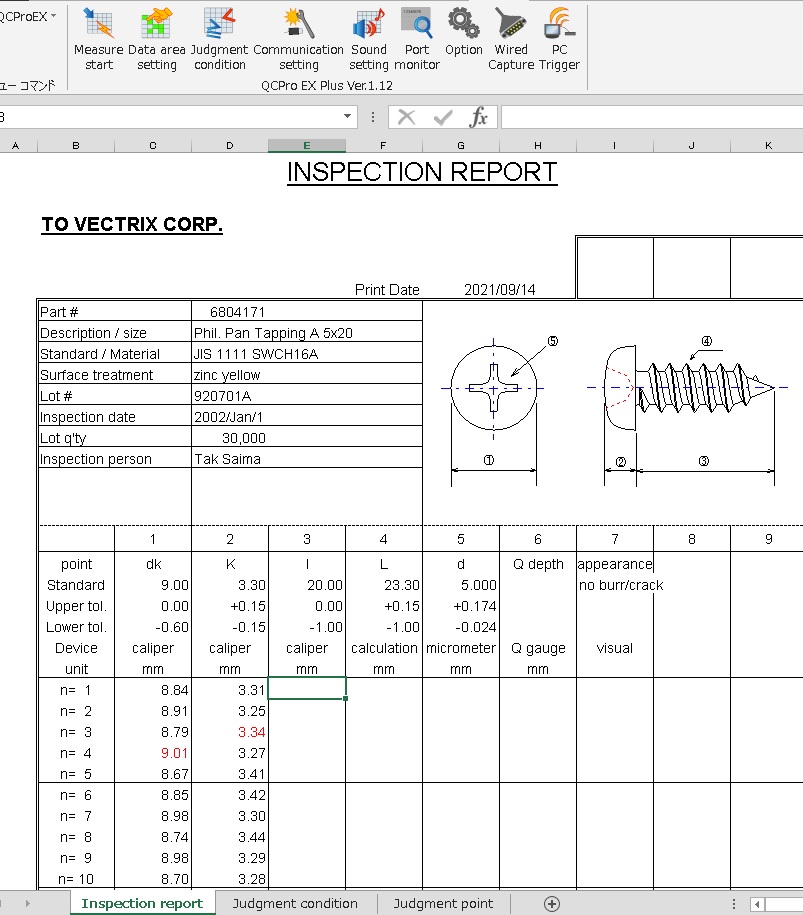 Selling points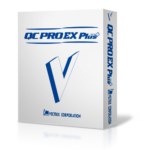 Common installer for Excel 32bit and 64bit edition
Available for non admimistrator acount user
Automatic add-ins registration
OK/NG judgement for keyboard input and result of formula
Icon menu realized outstanding operability.
Data import from RS-232C measuring device with bilateral interface using wired cable (paid option)
PC trigger function(paid option)
Patlite output(paid option)
English/Japanese/Chinese/Korean selectable
Realized import time reduction for mass data by speed up and "Import in active cell" function
"Overwrite data" function
PC circumstances
OS:Windows 8/10(Home/Pro 64bit/32bit)
Excel:2010~2019(64bit/32bit)
CPU:Intel(R) Core i5 or more
Hard disk:more than 2GB space in C drive unit
Microsoft .Net Framework 4.6.1 or later
Memory:4GB or more
Free Trial QC PRO EX Plus(Coming soon)
QC PRO EX is an Excel Add-in software to read measured data directly from measuring device with Transmitter into Microsoft Excel. To use QC PRO EX, PC with Windows & Excel, and Telemeasure hardware are required. Also your current Inspection report based on Excel sheet can be used.
Telemeasure is a wireless measured data importing system consisting of handy Transmitter and Data receiver. The transmitter is designed to transmit measured data received from digital measuring devices by FM radio wave. The Data receiver forwards the measured data to PC after receiving from transmitters.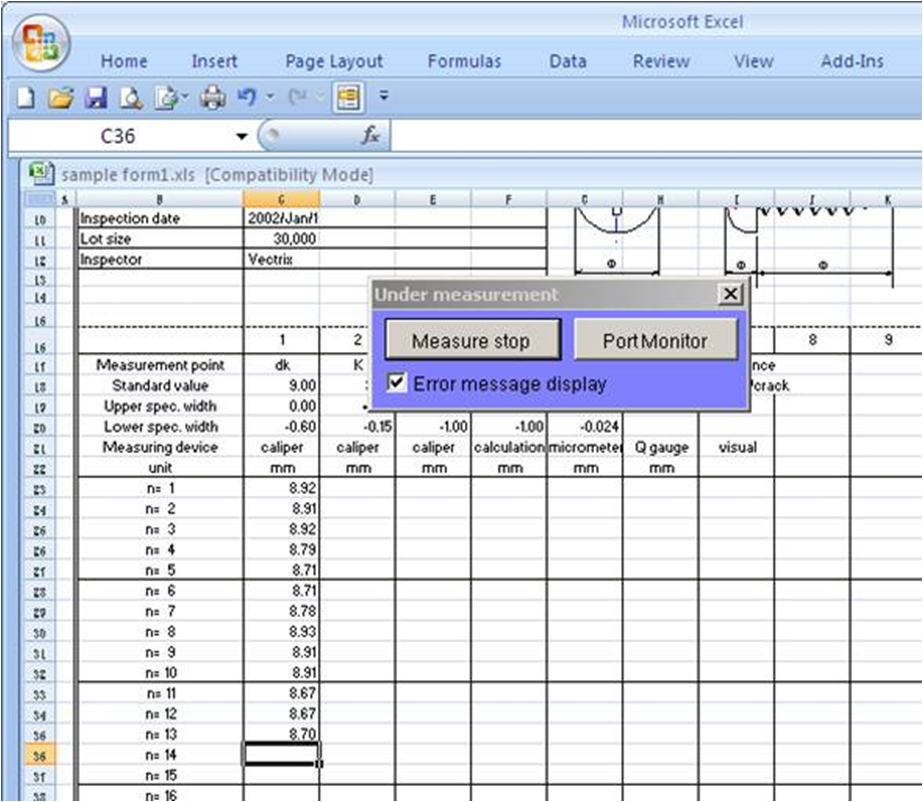 Selling points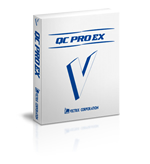 Only measuring operation makes possible to input data into cell, then inspection report is made immediately.
Indicate data reception and OK/NG judgment by PC sound and NG red character.
By Data area and ID No. setting function, input area, input sequence and ID No. are set.
By Communication setting function, direct input without Telemeasure is available.
Inspection report currently in use of Excel form (including Excel micro and function) is available .
TelemeasureII & QC PRO EX demonstration movie:
PC circumstances for English version
OS: Windows 10 or 8 of English edition
Memory:4GB or more
Excel: 2010~2019 of English, 32 bit edition
Excel: 2013~2019 of English, 64 bit edition.
(When OS or Excel is out of Microsoft support, function of QCPROEX is not guaranteed.)
In case of Japanese, Chinese Windows or Korean Windows and Excel, please install QC PRO EX of Japanese, Chinese or Korean version, respectively.
QC PRO MX
Application software importing measured data transmitted from Telemeasure into Excel Sheet.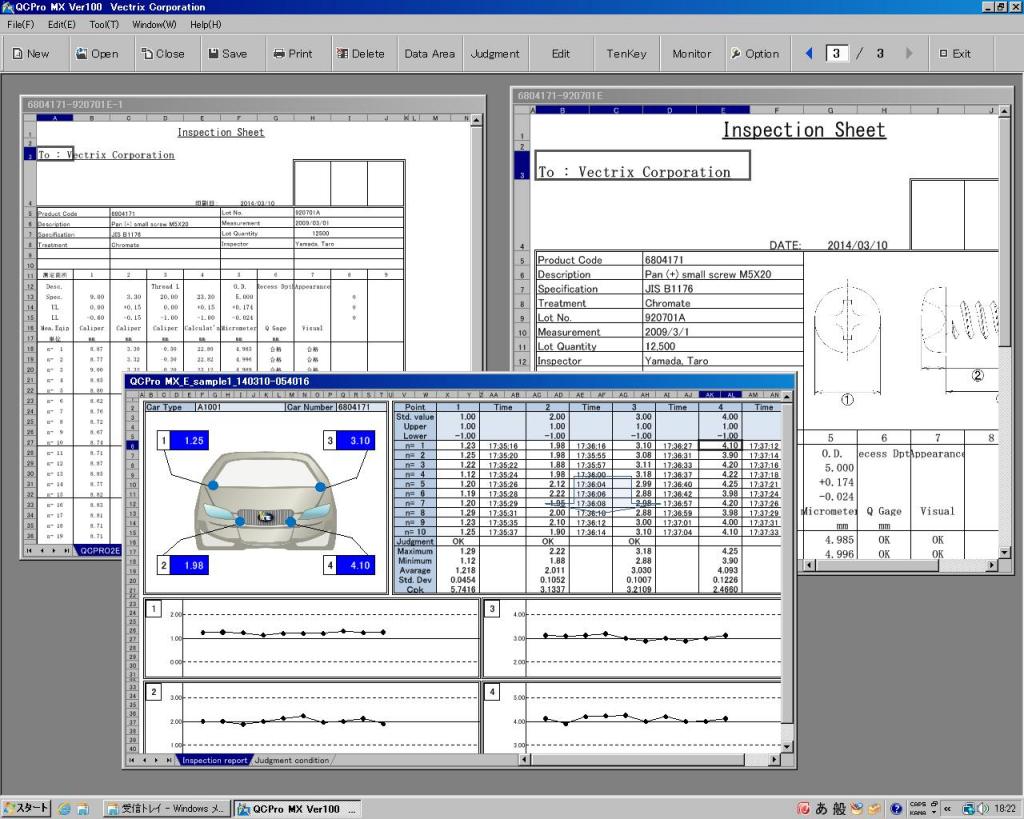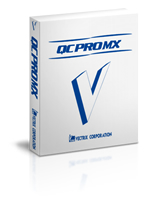 Selling points
Excel inspection report of your company is just available without any modification.
Same time input to plural inspection reports for one PC (ID offset function)
Prompt search for inspection item by barcode
Easy understanding automatic OK/NG judgment : sound, NG red color and Patlite signal
Also available for Windows tablet PC
Easy touch panel input of numeric value by TenKey function
Unnecessary to install Microsoft Excel
Language selection from English, Japanese, Chinese or Korean is available.
Visual measuring tendency by Control chart
Human error & inspection time reduction and cost-cut by using Telemeasure
PC circumstances for English version
OS:Windows 8 edition or later
Excel:2010~2019(64bit/32bit edition) for making definition file
CPU:Intel(R) Core(TM) i3 equivalent or later
Memory:4GB or more
Hard disk:more than 2GB space in C drive unit
Microsoft .Net Framework:4.6.1 or later
QC PRO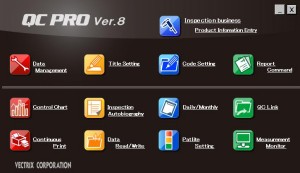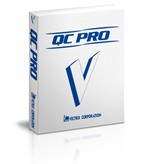 "QC PRO" is software which automatically records,calculates and analyzes data and systemizes quality control enables to make correct inspection report, because this is automatic system avoiding read or transcription mistakes. And this system can save mass data compactly and search them quickly, therefore realizes quality control with tracing data easily.
"QC PRO" realizes cost cut of quality control work,because it can reduce much time to make inspection reports or other documents.
Quality control software of standard database style Adopting SQL server, makes stored measured data to practical use.
Selling points
Easy operation for person inexperienced to PC
Real time OK/NG judgment and statistical calculation
Save long term mass measured data compactly and search them quickly
Able to register measuring information by Japanese,English,Chinese and Korean
Making graph of measured data by easy operation
Easy data linking with other factories
Patlite to individual ID No.(option)

PC circumstances for English version
OS:Windows 8 or later (Home/Pro) of English edition
CPU:Intel(R) Core i5 equivalent or later
Memory:2GB or more ※Recommend 4GB or more
Hard disk:50GB or more space in C drive unit
Diaplay:1280 x 1024 , 65536 colors or more
Microsoft .Net Framework:4.6.1 or later
Database: SQL Server 2014, 2016,2017 or 2019(Standard edition or Express edition)

*English, Japanese or Chinese version is available.
Application in typical user For input,store and analysis of measured data we are using total 65 sets of QC PRO in various manufacturing processes.Visual chart of QC PRO showing changing points or comparison with past data has much helped us to utilize data effectively.Defect ratio was much improved, customer regards QC PRO with high value.In near future we are going to introduce QCPRO to other factories.
SUPPORT
Annual support for support member of QCPRO ,QCPROMX
Remote support by "TeamViewer" and support desk
Discount sales of version up software and operation service at user site
Re-issue of software CD-ROM and operations manual
Supply latest updated software edition
---
Detail please look at "telemeasureII Catalog" P.3.